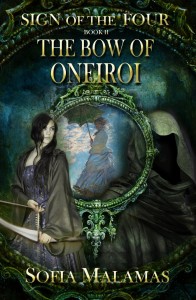 War has broken out in the Four Kingdoms. As the Earth Kingdom of Fangora readies its armies to take on the mighty forces of the Fire Kingdom of Infernia, Evelyn Leighton, still in pursuit of the legendary Sign of the Four, must find the elusive Claude Monet. 
Now possessing an Oratic piece—an acquisition of immense power—Evelyn is haunted by daunting visions of the future.  Every day her strength and power grow, but at what cost?
She and Jerris continue to grow closer, but the secrets she must guard to protect him keep getting in the way. Little does she know, Jerris has a secret of his own.
In this breathtaking sequel to The Onyx Bridge, Evelyn will be tested relentlessly. Forced to accept that all the wonderful things she's found only mean she has all the more to lose, Evelyn must decide what she is willing to risk to save the ones she loves.